The History of Moroccan rugs
Now, let us transport you to the historical realm that blankets modern-day Morocco — a realm where the roots of rug-making reach deep into the tapestry of Paleolithic times.
The Berber tribes, guided by the nuances of their captivating climate, were the early weavers of these marvels. Moroccan rugs possess the power to be as thick and cozy as a winter's embrace in the Atlas Mountains, or as flat and lightweight as a desert breeze beneath the scorching Sahara sun. The nomadic tribes cherished their rugs as comforting covers and dream-weaving mats, while, at times, these rugs even cloaked their loved ones' final resting places. Even in the present day, one can witness the soft, plush carpets adorning the backs of horses and camels, embracing them as saddle blankets during their enchanting journeys.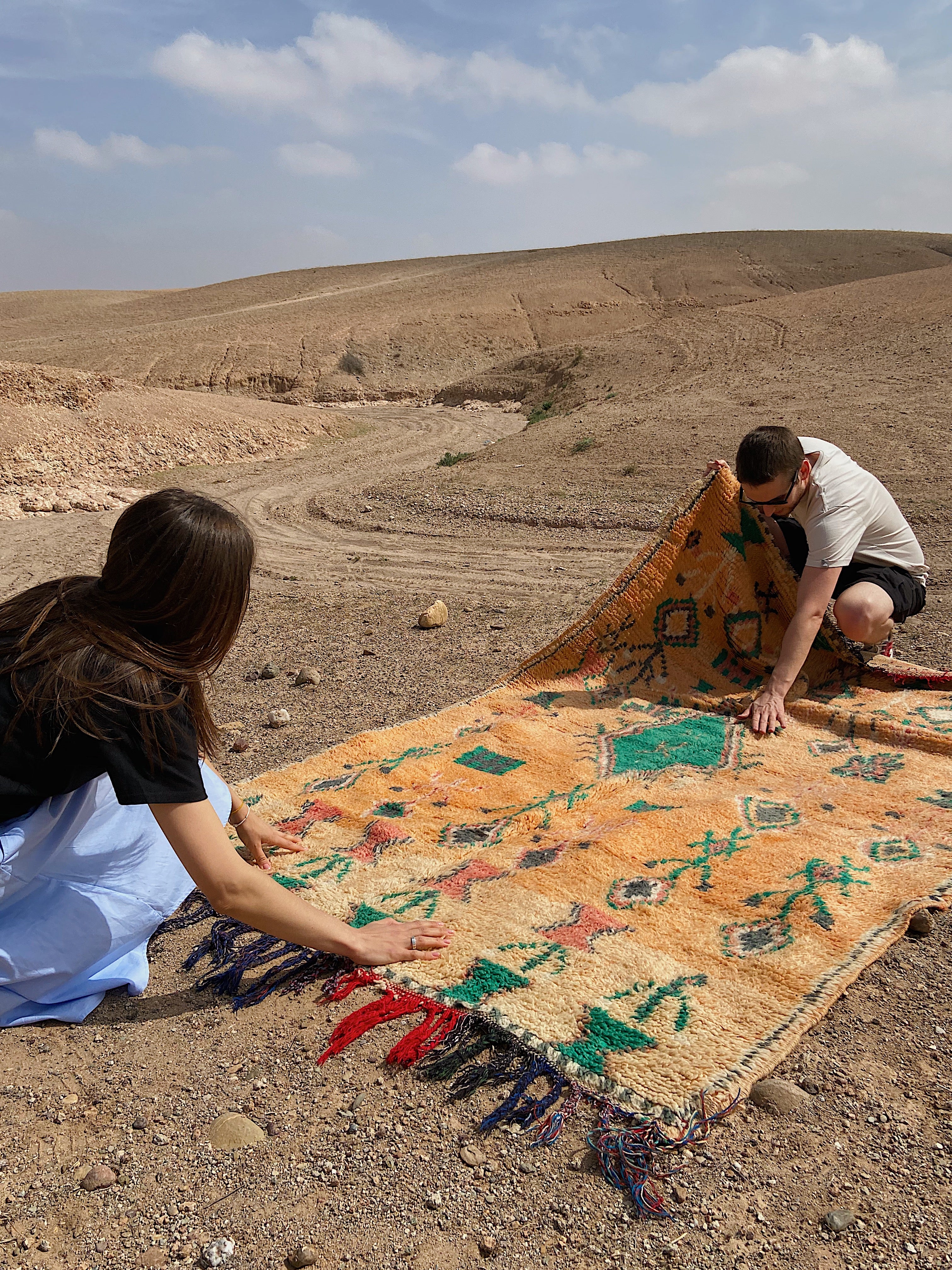 The mid-20th-century design luminaries such as Alvar Aalto, Le Corbusier, Charles and Ray Eames, Frank Lloyd Wright, Marcel Breuer, and Arne Jacobsen fell head over heels for the sumptuous allure of Moroccan rugs. These modernists were captivated by the primitive charm woven within their ornate patterns. Moroccan rugs, my loves, possess a beguiling simplicity that effortlessly harmonizes with the spirited soul of a modernist interior, breathing life and soul into any space they grace.
Let us not forget the divine allure of antique Moroccan rugs that continue to enchant us even today. Their decorative flexibility is truly something to behold, allowing them to effortlessly adapt to any design vision that springs forth from the depths of our hearts. When it comes to the price tag, these treasures of the past are ever so reasonable, offering us a delightfully accessible path to owning a piece of history unlike any other.
May you be forever enchanted by the stories woven within the threads of Moroccan rugs, their mystique, and the magic they bring to our lives. Let us celebrate these artistic wonders that have stood the test of time, whispering the tales of generations past and inspiring the dreams of generations yet to come.
These treasures are an absolute delight, showcasing a captivating blend of irregular geometric patterns and enchanting Berber symbols. Each rug holds within its knots a tale of home, fertility, and family, whispering secrets of Amazigh heritage.
Crafted with utmost care, these rugs are fashioned from 100% soft wool, sourced from the free-spirited sheep that roam the pristine mountainous regions. The wool is tenderly nurtured for five long years, allowing it to reach its pinnacle of excellence. And when it comes to dyeing, only nature's hues are deemed worthy. Exclusively natural dyes infuse life into the fibers, creating a kaleidoscope of colors that effortlessly harmonize with contemporary interiors.
Ah, the journey of weaving these rugs is a labor of love that spans a few month. Every step is an homage to craftsmanship, from the multiple washings to the gentle drying under the benevolent gaze of the African sun. It is during this final stage, known as the "kiss of the sun," that the rug receives its tender caress, becoming softer with each passing day.
Let us introduce you to the iconic Beni Ourain rugs, the true embodiment of Moroccan allure. These are the gems that have transcended borders and found their way into the realm of mass-market stores, adorning the spaces of design-conscious individuals.
Originating from the high mountain regions of the majestic Atlas Mountains, Beni Ourain rugs hold the spirit of 17 Berber nomadic tribes. The sheep that roam these lands possess a breed that yields the finest and warmest wool, a true testament to nature's generosity. Originally used as blankets and throws to shield against the mountain's chill, the art of rug weaving was passed down from mothers to daughters, transforming into a cherished tradition.

In the mid-20th century, global designers recognized the timeless appeal of Beni Ourain rugs, and they became synonymous with classic style. Even to this day, they effortlessly embody contemporary aesthetics. With their plush and luxurious pile, often adorned with simple geometric patterns or abstract linear compositions, these rugs seamlessly blend into the boho-chic interiors or any other design haven you desire.
Ah, the exquisite Beni Mrirt rugs, the true gems that grace the Moroccan rug collection, radiate unparalleled excellence.
While at first glance, they may resemble their renowned counterparts, the Beni Mrirt rugs possess their own distinct qualities. With a different weaving knot and a finer wool yarn, they boast a density that simply captivates the senses. The patterns and color palettes are a world of their own, where creativity knows no bounds. The weavers craft these marvels using light, undyed wool as their canvas, adorning it with abstract designs, ancient Berber symbols, and a captivating array of colors, from deep blacks and rich browns to enchanting indigos and warm ochres. The result is a grand tapestry, luxuriously dense and irresistibly soft, boasting a unique abstract composition of nature's own hues.
Nestled in the foothills of the Middle Atlas Mountains, the region of Beni Mrirt cherishes the art of rug weaving. Like an ancient melody passed through the ages, the knowledge and skill of knotting are entrusted from mothers to daughters. Every rug stands as a testament to their dedication and expertise. In the mid-20th century, the tribal Moroccan rugs gained acclaim from designers around the globe, becoming an embodiment of classic style. To this day, they remain at the forefront of contemporary design.
These exceptional rugs are crafted from 100% soft wool, carefully gathered from the roaming sheep in the pure embrace of the mountainous landscapes. A long journey of weaving brings them to life, culminating in a final stage that embraces the essence of the African sun. Multiple washings and gentle drying under its benevolent rays bless the rug, bestowing upon it an unmatched softness that beckons you to touch and feel its warmth.
Boucharouite it's a treasure trove of ancient handcraft. Picture this: vibrant fabric scraps and old textiles woven together with love and care, resulting in a mesmerizing tapestry of colors and patterns. It's like a magical dance of texture and artistry! These Boucharouite rugs, with their intricate designs and weaving techniques, remind me of the traditional Russian rugs and runners from Kostroma or Suzdal. It's a beautiful fusion of cultures and craftsmanship.
They are affectionately called the "rugs of the poor." Why, you ask? It's because the materials used are more affordable than luxurious wool. But let us tell you, their value goes way beyond the cost of the materials. Each Bouchuruite rug is a unique and personal creation, brimming with stories and memories. We adore hunting for vintage Bouchuruite rugs, as they are the epitome of rustic charm and authentic craftsmanship.
Ah, Taznakht! This is where the enchantment begins. Nestled between the majestic Atlas Mountains and the Saharan desert, this small town exudes a mystical aura. Imagine a vibrant tapestry of colors, an intricate embroidery of saffron, henna, turmeric, mint, and indigo dancing before your eyes. Taznakht rugs, my dear, are a sight to behold!
These rugs often take the form of captivating flat-weaves, reminiscent of the timeless Turkish kilims that have adorned homes for centuries. But wait, there's more! Occasionally, you may stumble upon a rare gem—a Taznakht rug with a luscious pile. It's like walking on clouds!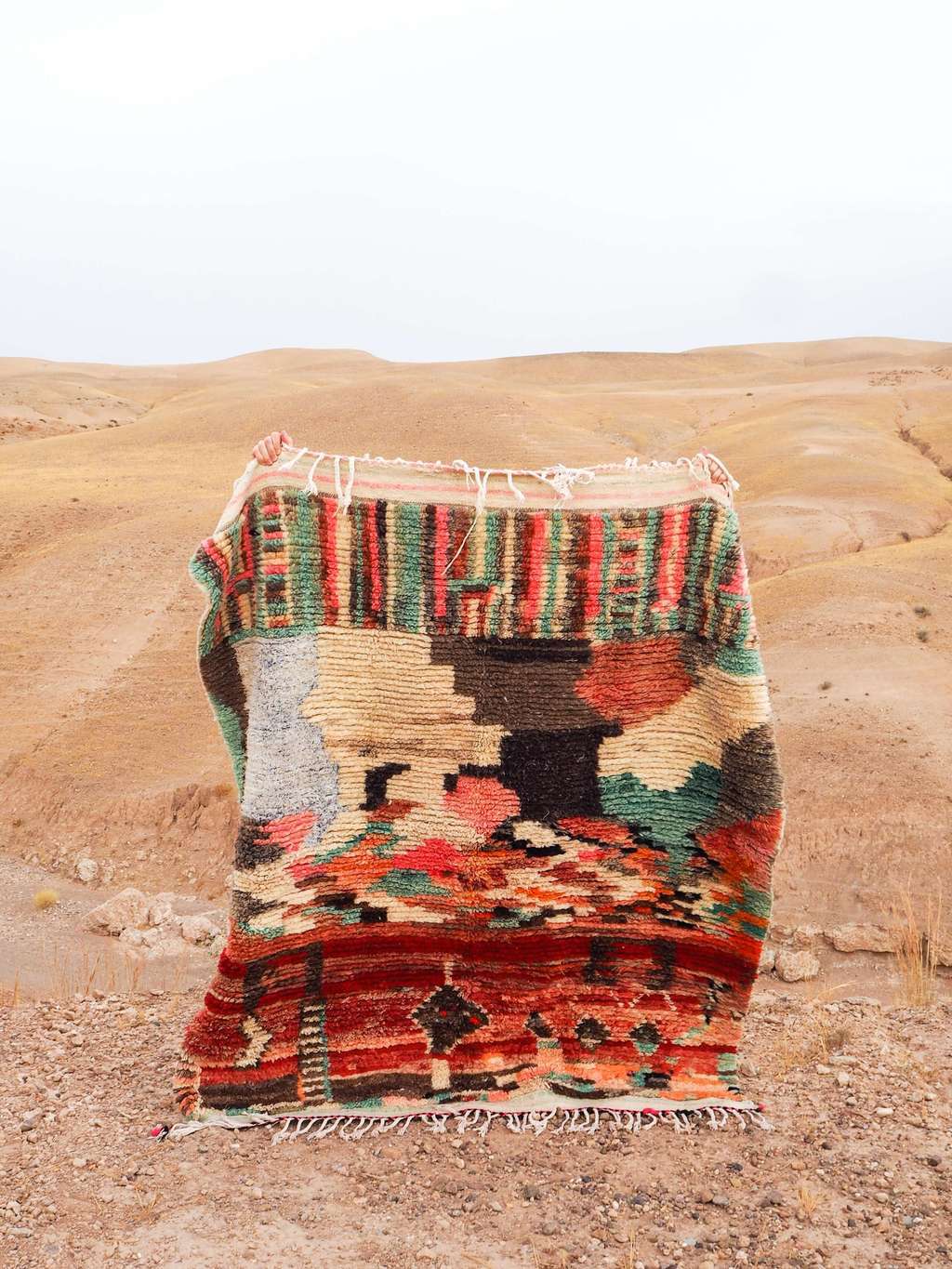 Azilal rugs
Crafted by the skillful hands of Berber tribes in the region that shares their name, these rugs are a celebration of color and geometric artistry. Picture a canvas of milk-white or ivory, adorned with a burst of vibrant hues and mesmerizing patterns. It's like a kaleidoscope of joy!
But here's the delightful twist. Unlike other Moroccan rugs, Azilal rugs weave their magic with a single knot, creating a unique texture and character. They are not just rugs; they are woven stories, reflecting the rich culture and traditions of the Berber people.